When Wadebridge Steamed Ahead!
Wadebridge and District Museum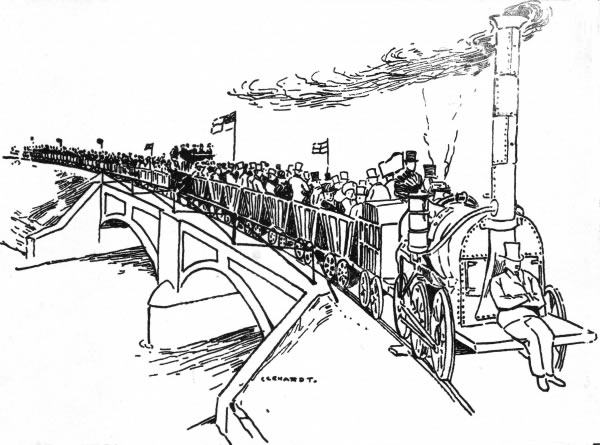 By: Nicola Wills
Added: 12 May 2017
Did you know that Wadebridge had a railway service ahead of London? In 1834, there were only a handful of railway companies in the whole of the world and The Bodmin and Wadebridge Railway was one of them.
Wadebridge and District Museum, with help from a number of other local individuals and organisations, are celebrating our early pioneers and are inviting everyone to the event at the Town Hall on Saturday 17th June 2017 from 10 am to 4 pm. Wadebridge Camera Club are coming on board with a display of "then and now" photographs of the railway. Allan Caswell, local artist, will be running a railway-themed children's art workshop from 11.30 am to 2 pm. Friends of Pencarrow will be providing a display about Sir William Molesworth, who was the driving force behind the Wadebridge-Bodmin line, while the Museum will produce a display of the railway history. There will also be John Greenwood's splendid model of the railway in Wadebridge. In addition, there will be live entertainment: storytelling at 2 pm with Cornish Bard Mo Keast and at 11 am and 3 pm a short drama entitled "Sir William's Bright Idea", an original script telling the story of the formation of the company in a light-hearted way and highlighting many social changes over 183 years. This will be acted by local volunteers, so come along and see if you can spot who they are.
The event is sponsored by the Bright Sparks initiative of the Cornwall Museums Partnership and FEAST/Creative Kernow and also the St Breock Wind Farm Community Fund. Admission is free with Cornish hospitality available. Why not make this a date to catch up with your friends?
---
Wadebridge Community Fair
Wadebridge and District Museum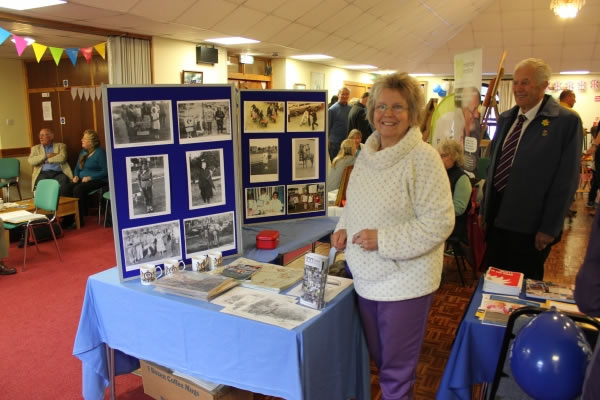 By: Geoff Richards
Added: 21 May 2016
The Museum took part in todays Community Fair at the Betjeman Centre in aid of the Alzheimers Society.  The event had a variety of stalls, games and other attractions including the "inTune" choir.  Our role was to provide a display of photos which would jog memories and get people talking.  We chose the theme of Wadebridge Carnivals over the years, which gave plenty of scope for argument about who it really was inside that fancy dress.


---
A New Montage
Wadebridge and District Museum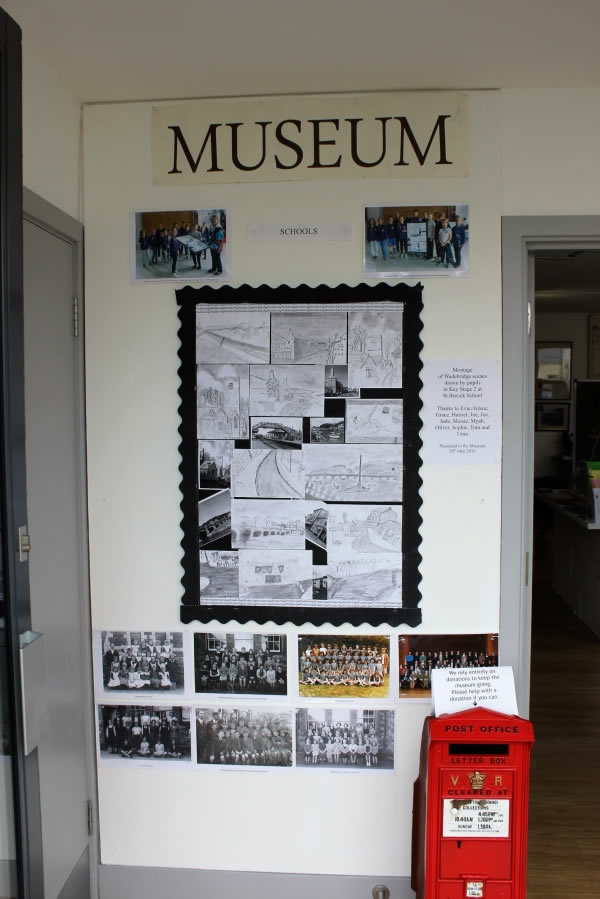 By: Geoff Richards
Added: 20 May 2016
St Breock School have a reputation for producing montages, so we suggested they might like to do one for the Museum highlighting aspects of the town's history.  Today they presented us with the result, a striking combination of black-and-white photos and drawings by Key Stage 2 pupils.  It is now on display in the Museum lobby, so many thanks to the pupils involved: Evie, Grace, Grace, Harriet, Joe, Joe, Jude, Maisie, Myah, Oliver, Sophie, Tom and Uma.
---

Wade Bridge
Wadebridge and District Museum


By: Geoff Richards
Added: 24 August 2015
We have a new display celebrating Wadebridge's 15th Century stone bridge and some of the events associated with it.  The display has been prepared by Andrew Langdon, author of the definitive book about the bridge.  The picture shows an 18th Century oil painting of the bridge which hangs in Pencarrow House.
---

Foreign visitors
Wadebridge and District Museum
By: Geoff Richards
Added: 05 March 2015
Wadebridge & District Museum are improving communications with foreign visitors by providing an introductory sheet giving details of local history in various languages.  So far, French, German, Spanish and Chinese are available, with Italian and Swedish in preparation. Since 2015 we have added another 6 launguages including Cornish.
---

Outreach activities
Wadebridge and District Museum
By: Geoff Richards
Added: 10 June 2014
The Museum is initiating a number of activities aimed at engaging with the Wadebridge community. We have hosted a number of visits, the most recent today, from Guides, Brownies and Rainbows. These involve opening the Museum in the evening and giving our visitors a guided tour with our President Peter Tutthill.


In addition, Richard Hamm's Fake or Fortune antique surgeries are now being held in the Museum, see "Events" for next date. Bring along your prized object and Richard will give you a free valuation.


Finally, we are offering local organisations the use of one of our windows to display their own material. The intention is to promote the organisations, possibly including photos illustrating their history. Each organisation would have use of the window for two weeks.
---
We are now open!
The Museum was opened on 28th September 2013 by Tony Rush, the Mayor of Wadebridge. Our President Peter Tutthill gave the introductory address, in particular thanking our benefactor Philip Mutton for providing the new premises. Following the Mayor cutting both a ribbon and a celebration cake, the Shipwrecks performed several Cornish songs. Those present then entered the museum to see for themselves the new exhibits and partake of the cake. We had nearly 100 visitors on the openingday.
Opening Soon
19th July 2013
Today we received the keys to the new museum building from Philip Mutton, the developer. We have to fit out the new premises and install the exhibits, so hope to be opening in a couple of months' time. PS. We are opening on 28th September.
New Building
October 2012
Building work is now in progress at our new site in Cross Place.
Community Vote
13th July 2012
We were runners-up in the Wadebridge Co-op Community Vote scheme, receiving our award at an event at the Showground Pavilion last Wednesday.
Heritage event
6th July 2012
The Museum will be participating in the Heritage Event at Egloshayle Church on 20th and 21st July, 10 am to 4 pm. There will be hundreds of photos and other items on display to celebrate the life of Egloshayle - Church, Village and Parish - plus refreshments and a quiz.
Planning consent
2nd May 2012
Cornwall Council has approved the development for the new museum. Building work should start around August.
Vote for Museum funding!
28th April 2012
The Co-op have a Community Vote scheme that gives shoppers the chance to vote for which local organisation receives a Co-op grant. We have been placed on the Wadebridge short-list, so there will be an opportunity to vote for us whenever you shop during May.
One step nearer
3rd April 2012
The planning committee of Wadebridge Town Council has approved the development for the new museum. We now await Cornwall Council's decision.
A New Home
20th October 2011
A local benefactor has promised the museum a new home. It is subject to planning consent for a development in the town, but if all goes well we should be back in operation in about three year's time.